Workshop Lizmap#
Pre-requirements#
This workshop is designed for Lizmap users, half day.
FTP Client (WinSCP for Windows, Filezilla for MacOS/Linux)
QGIS 3.16
Lizmap plugin on QGIS Desktop
QGIS project attached in the email
The QGIS project contains layers from the PostgreSQL database
Documentation#
Links#
First quick map#
Open the project
Set the extent on the map canvas
In the Project Properties :

Relations tab, add all relations automatically with Discover Relations
QGIS Server tab,

Service capabilities, set a title and an abstract
WMS capabilities, use the current canvas extent
WFS capabilities, publish all layers

Open the Lizmap plugin
Only one time, add a server with your instance home page URL
Close the Lizmap plugin (it's creating the Lizmap file when closing the window).
Transfert the project (.qgs et .cfg) in the folder qgis/topic_workshop
Bonus if you have a small PNG picture called name_of_project.qgs.png.
Quick overview of the Lizmap web interface#
The map
Lizmap folders
Administration panel
Legend#
Add some groups in the legend

Editing with persons and observations
Data with municipalities
hidden, with small h, with species and you can add OSM base layer (from the QGIS Browser, XYZ Tiles)

Rename layers with a more human-readable

Except for the OSM layer, in the group hidden, the name must be osm-mapnik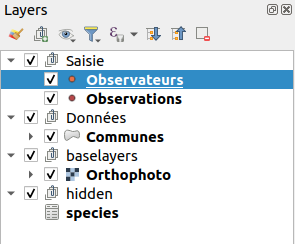 Starting from now, often send the QGS file and the CFG file on the server to check the result between each bullet item.
Make a quick symbology on a point layer :
Make a quick symbology on the municipalities layer : (already done ;-)

Categorized on name ()
Tip, change the symbol to remove the fill
Remove the line Water

Go in the Lizmap plugin, Layers tab
Set a link on a layer:

media/metadata.pdf, a PDF link, stored in the folder media (you can see it in the FTP client) on observations
https://en.wikipedia.org/wiki/French_Polynesia on municipalities

In the Lizmap plugin, go in Baselayers and add the OpenStreetMap Mapnik background.
Attribute table#
From the plugin, enable the attribute table for the municipalities layer.
Let's add some popups#
In the Lizmap plugin, enable some popups on the layer municipalities with auto mode.
Add some aliases on fields to "clean" them from the layer properties ➡ Attributes Form ➡ a specific field ➡ Alias.
Let's switch to a popup with QGIS mode :
Tip : QGIS ➡ View ➡ Show Map Tips to display maptip straight in QGIS Desktop.
These QGIS popups are powerful with the use of QGIS expressions:
<

ul

>




<

li

>

[% "name" %]

</

li

>




<

li

>

[% "population" %]

</

li

>




</

ul

>



You can use expressions :
* to display with capital letters
* to display in red if the population is less than 20 000 inhabitants

Editing capabilities on a layer#
We want now to enable editing capabilities on a layer in the Lizmap interface, to let some users add some observations.
In QGIS, try to add a point and check how the default form is displayed on the layer observations. You need to toggle editing mode first with the yellow pen.
Improve the form in QGIS :

Layer Properties ➡ Attributes Form -> Drag&Drop layout form
Remove the field id
Make two groups : Required and Optional
Field configuration :

fk_id_person :

Alias Watcher
Relation reference with name

fk_id_specie :

Alias Species
Value relation layer species, key column id and value es_nom_commun

date :

Alias Date
Date/Time; by default

photo :
gender :

Alias Gender
Value map and add some values in the table Male, Female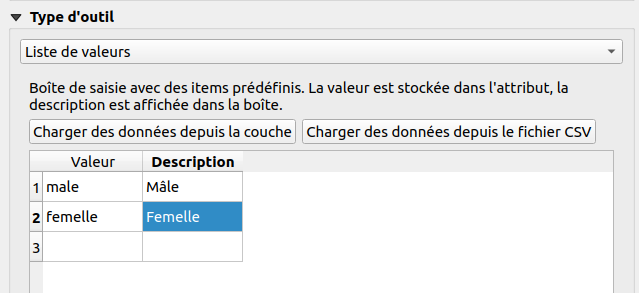 As soon as you have your form ready in QGIS (more or less 🙂), add the layer in the editing panel in Lizmap
PDF Print#
Extent chosen by the user#
In the given QGIS project, there is already a layout Landscape A4.
Enable print in your Lizmap plugin, second tab.
Customize the title from Lizmap web interface
From a popup, extent defined by the feature#
Duplicate the layout and let's transform it to an atlas:
Enable atlas on municipalities
Change the title to display the name of the municipality
Enable the map to "follow" the current feature
Check in the result in Lizmap
Dataviz#
Add bar chart in the Lizmap plugin about population in municipalities
Layer : Municipalities
X Field : Name
No aggregation
Trace : population
On "persons" layer, add a pie chart about each "watcher"

Add a virtual field in "persons" called count :
relation_aggregate(
    relation:='observation_fk_id_person_fkey',
    aggregate:='count',
    expression:="id"
)

Add pie chart in the Lizmap plugin
Layer : Persons
X Field : Name
Aggregation sum
Trace : count
---
Last update:
September 27, 2021